Genevieve Cullen
Biographical Information

Name:

Genevieve Allie Cullen

Gender:

female

Age:

currently 8

Height:

average

Nationality:

American

Hometown:

Forks

Born:

11.09.2006

Nicknames:

Gen,Genna,Gennie
Professional Information

Profession:

student
Friends and Family

Parents:

Bella and Edward Cullen

Siblings:

Renesmee Cullen

Grandparents:

Esme and Carlisle Cullen ; Renee and Charlie Swan

Friends:

Seth,her diary Allie,later on Raffaella

Love interests:

Seth
Behind the Scenes

Portrayed by:

Maddie Ziegler, Thylane Blondeau, Liana Liberato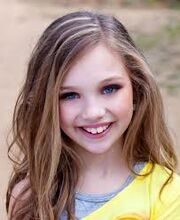 Genevieve Allie Cullen is the younger sister from "The Cullen Sisters".She is aged currently 8 in human years,but looks about 17 years old.
Appearance
Edit
Genevieve appears to have brown hair and blue eyes.She is more human than a vampire and that`s why she is aging slower.At age of 1 she looks about 11. She is average height and weight, but is shorter than her sister Nessie.
Facts and stuff
Edit
Genevieve`s nicknames are "Genna" ; "Gennie" ; "Gen"
She can dance,sing and act and after her growth turned normal (aged 8 months),she starts going to dance lessons.
Genevieve looks more like a human than Renesmee.
Genevieve adores flowered dresses, skinnies and converse.
Genevieve is afraid of wolves until Seth imprints on her.
Her favourite colour is pink.
She can dance, sing and since "Midnight Moon" takes piano lessons.
Community content is available under
CC-BY-SA
unless otherwise noted.